Stand with Ukraine. Save peace in the world!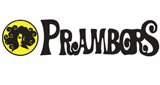 Prambors FM
Prambors adalah siaran radio yang ditujukan kepada kawula muda di Indonesia. Nama lengkap Prambors adalah Prambors Rasisonia, yang merupakan singkatan dari Prambanan, Mendut, Borobudur, dan Sekitarnya (Prambors) dan Radio Siaran Sosial Niaga (Rasisonia).
Prambors FM reviews
Menggokil se semarang, Demak, Kudus, Kab. Pati Bagian barat, kab. Batang sm Kab. purwodadi

wihh gila prambors muantapppp.... lah

Joko Indrianto

05.07.2019

Nice music...I like it and enjoy it...bravo...!

Ragil Setiawan

03.03.2019

good

PooZack J'sell

05.01.2019

Good music and news

Terbaik dari yang paling baik dari semua radio yang ada..