Stand with Ukraine. Save peace in the world!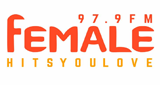 FeMale Radio
FeMale Radio merupakan stasiun radio perempuan nomor satu di Indonesia. Sejak 1989, FeMale Radio berusaha memenuhi kebutuhan para pendengarnya melalui pilihan musik, informasi aktual dalam berbagai hal di dunia bisnis, hiburan, ekonomi, gaya hidup hingga keluarga. Khususnya untuk perempuan (dan pasangannya) usia 25-39 tahun yang mapan, modern & bangga memiliki jiwa Indonesia pada dirinya.
Show more
TOP songs on FeMale Radio
FeMale Radio reviews
Balkis Fadilsa

02.04.2023

Kak nungguin request an lagu nihh buat tugas kuliah hehehe🙏

seneng denger female radio apalagi yg pagi dati jamannya Ida Arimurti/Indi barens/ben-ceclie-nino/skrg Nino-Widhy sangatmgnhibur dg keseruan dipagi hari cukup jd booster selama perjalanan ke kantor.... sehat selalu untuk kalian .... :D

lagu lagu enak enak semua apa lagi baru bangun tidur dengerrin female radio jadi auto semangat si

Bagus kan teus kualitas nya

Bangun tidur yang dicari radio female...nemenin sepi pagi2, nemenin bebenah, masak dll sampai anak suami siap beraktiitas. Sukses selalu female radio.

program sama penyiar penyiarnya asik banget.. programnya keren dan berisi.

Dessy Arisanti

16.11.2021

radio fav aku..female selalu nemenin aku dimobil berangkat dan pulang kerja..pagi selalu dengerin trio bensin, sore afternoon feel good bareng endang..

Salah satu radio station yang saya sukai dan beruntung sekali saya bisa mendengarkannya lewat onlineradiobox

lagunya enak2. terima kasih sudah mengisi bagian dari hidupku.

Kak saya nunggu iklan nya nih hehe. Banyak2 in iklannya ya kak buat tugas kuliah nih🙏🏼
Information about the radio
FeMale Radio telah meraih penghargaan Cakram Award 2004 & Cakram Award 2008 sebagai radio terbaik karena mampu memberikan layanan program on-air & off-air berkualitas untuk para pendengarnya.

FeMale radio ada di frekuensi 97.9 FM Jakarta dan 88 FM Medan.
Radio contacts