Stand with Ukraine. Save peace in the world!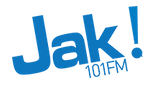 Jak 101 FM
All The Great Things For Your Day. We Give You The Great Music, Great Content and Be A Great Friends
Jak 101 FM reviews
Tjipto P. Prastowo

26.10.2023

radio jak terlalu banyak komentar pembawa acara, lagunya sedikit

Knpa radio jak fm gk bisa di buka? Minta perbaikan nya. Tm ksh

samuel christanto

09.01.2021

mantap dah lagu-lagunya di Jak FM buat aku jadi semangat lagi..

download noice guys and keep calm hehehe

Anunk [januri]

11.03.2019

berkat online radio, bisa dengerin Jak FM di kantor sambil lembur..mantaappss

Ranger Montana

10.03.2019

manteb dah tiap hari dari senin ampe minggu tune in terus di Jak FM..!!

cicilia prastanti

08.03.2019

yang sedan d putar sekarang lagu nya siapakah?

herdyan firmansyah

06.03.2019

aaasiiaapppp ..

radio yang membangun opini positif

Yang nemenin mulai dari masuk sampai pulang kerja, thank you Jak.