Stand with Ukraine. Save peace in the world!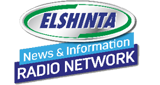 Radio Elshinta
Elshinta Radio atau Elshinta News and Talk adalah sebuah stasiun radio nasional di Indonesia yang menyiarkan berita selama 24 jam nonstop dan berpusat di Jakarta. Sesuai dengan format acaranya News and Talk, radio ini menyiarkan berita dan informasi aktual, serta gelar wicara
Radio Elshinta reviews
Hengki Dermawan

05.06.2023

kasih cerdas rakyat indonesia,..

herry yusnardi

01.05.2023

awsome

DONGPONG KARYA

21.04.2023

jos

rosalia clara lany

09.03.2023

intelek

Muhamad Jafar Yudipermana

15.02.2023

mantap

Asmudji Asmudji

06.01.2023

Keren

Terdengar jelas dari California, Amerika. Terima kasih Elshinta dengan berita2nya yang akurat dan terpercaya.

Tingkat kan trus aplikasi nya

Suaranya sangat jelas tidak ada gangguan

Sering off air nih Elshinta ... di web resminya juga sering off air.