Stand with Ukraine. Save peace in the world!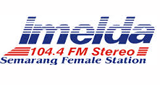 Radio Imelda FM
Imelda Fm is a radio station dedicated to the Indonesian women. It features music and talk show about a wide range of subjects. Its schedule includes the following programmes: Female Lunch Time, Woman Profile, Indonesian All Stars and Sweet Memories.
Show more
On the air Radio Imelda FM
| | |
| --- | --- |
| Live | Sorry, service not available. Try again later. Sorry, service not available. Try again later. |
| 14:57 | Now Playing: CLOSING SIARAN - CLOSING SIARAN |
| 14:55 | Now Playing: SELENA GOMEZ - SINGLE SOON ('2023) |
Radio Imelda FM playlist
TOP songs on Radio Imelda FM
Radio Imelda FM reviews
Acara cari jodoh masih adakah? 16 tahun yg lalu aq dpt istri dr radio Imelda & msh langgeng smpe skrng.🤭🤭🤣🤣

radio fave aku dari jaman SD ampe dah punyak anak 2

Mochamad Yunus

24.06.2023

Maybe listen here some one in B** KCU Pemuda Smg from SO** city

Dengerin imelda FM dr SD, sekarang anak sdh mau lulus SD

Irwan Pangestu

09.03.2023

Salam Darii jogja

Desemrays Indra Indra

29.06.2022

selamat malam, salam dari borneo kalaimantan

Eko Tri Susanto

27.05.2022

acara nightmare on the air paling favorit dengerinnya rame2

Ayudyah Hastuti

07.05.2022

radio dr jaman smp tahun 1995

Andreas Mujiono (TheNextt)

24.03.2022

Radio favorit

jadi teringat masa di semarang waktu sma dulu....lup yu all gaes, cah smp marwo dan smansa ungaran
Information about the radio
Visi
Menjadi Lembaga Penyiaran Swasta yang independen, netral dan professional yang mengedepankan penyatuan komunikasi yang bersahabat dan idealisme bisnis bagi wanita Semarang pada khususnya.

Misi
Menjadi " sahabat' wanita Semarang , tidak hanya dengan menyediakan kebutuhan mereka akan hiburan, informasi dan edukasi tetapi juga memberikan kesempatan dan kemudahan bagi proses women's empowerment atau pemberdayaan perempuan.
Radio contacts