Stand with Ukraine. Save peace in the world!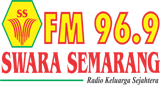 Radio Swara Semarang
Radio Swara Semarang ialah stasiun radio yang mengudara pada frekwensi fm 96.9 MHz,yang disiarkan eksklusif dari studio di Gajahmada Hall lt.4 Bukitsari Semarang. Sebagai media hiburan,informasi dan edukasi radio ini memilik tugas penting untuk keluarga sejahtera di kota Semarangdan sekitarnya. Radio 96.9 Swara Semarang mengudara selama 21 jam setiap hari yaitu mulai siaran jam 05.00 hingga jam 02.00 dini hari.
Radio Swara Semarang reviews
Mochamad Yunus

24.06.2023

Maybe listen here some one in B** KCU Pemuda Smg from SO** city

Andi Muhammad Iqbal

20.02.2023

Selamat pagi mbak deta, boleh saya request lagu second civil aku kau dan kenangan ku

Blh minta lg tatu...kgem bu marsah..gg4 ngesret brt dr bu harti

Boleh request lagu kpop untuk adek aku yang suka K-Pop Lagunya Nmixx O.O
Radio contacts
Tlp kntor dan fax 024 7473251