Stand with Ukraine. Save peace in the world!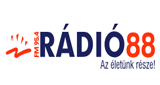 Radio 88
A Rádió 88 Szeged legmeghatározóbb médiuma. Magyarország legrégebb óta fennálló kereskedelmi rádiója 1990-óta szórakoztatja Szeged és környékének hallgatóit. A rádió régebben Vásár Rádió néven volt elérhető.
Radio 88 reviews
Krisztian Harsanyi

27.12.2022

Nagyon szuper a radio!!!

Nagyon jó radio!!!!!!

Változatos - új zenék!! 😍

Norbert Borjáti

01.07.2020

szeretnék páromnak küldeni egy szeremes zenét kocsis dorinának

Super OK!!!!!

A vidék legjobbja.
Radio contacts
SMS: (30) 299 8888
Fax: 62/443-075
https://www.instagram.com/radio88szeged/