Stand with Ukraine. Save peace in the world!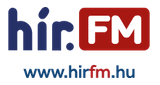 Hír FM
A Hír FM (korábban Karc FM) magyar jobboldali irányultságú közéleti rádióállomás, amely 2016. február 15-én indult el. A rádió közösségi jellegű, műsoraik nagy részében közélettel és politikával foglalkoznak közérthető, a hallgatók számára fogyasztható formában, de megjelenik a zene, a sport és a kultúra is. Az adón az országos hírek mellett a helyi információ feldolgozására is nagy hangsúlyt fektetnek. Ügyvezető főszerkesztője Gajdics Ottó.
Hír FM reviews
Krisztian Harsanyi

22.12.2022

Nem valami nagy szám!!!!!!! Nagyon gyenge a radio minden téren!!!!!!!

Leg jobb műsorok ha elérhető!

Már régóta ez a kedvencem!Hajrá !

Csuvarszki András

04.03.2020

Csak így tovább!

Beöthyné Ildikó

03.02.2020

Szeretem...

István Rozgonyi

13.08.2018

Nagyon jó!

Zsuzsa Kotnyek

27.07.2018

Nagyon jo

Kedvenc csatornám, kár, hogy csak interneten keresztül tudom fogni!

Szuper csatorna!