Stand with Ukraine. Save peace in the world!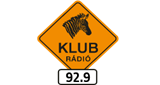 Klubrádió
Klubrádió 92,9 Mhz - tények, vélemények - feketén, fehéren. Magyarország egyetlen "talk and news" (tények-vélemények) rádiója. A Klubrádió 40 féle interaktív, tematikus magazinműsort kínáló műsorszerkezete egyedülálló a hazai rádióspiacon! Erős hír- és információszolgáltatás, tájékoztatás, közszolgáltatás – közélet, közlekedés, időjárás, gazdaság, kultúra. Tematikus műsorkínálat – fogyasztóvédelem, könyvek, ingatlan, utazás, autó és közlekedés, életmód, közélet, szórakozás. Közvetlen beszélgetős magazinműsorok - a hallgatók és a szakértők bevonásával.
Show more
Klubrádió reviews
Krisztian Harsanyi

27.12.2022

Nem valami nagy szám!!!!!!! Nagyon gyenge a radio minden téren!!!!!!!

Megkérném a műsorvezetőket /a legtöbbet/ ne csámcsogjanak,szörcsögjenek,vaka rózzanak,böfögjenek ,ne nyikorgassák a széket! Ez túlmegy a jóízlés határán!

Csepán Zsuzsanna

10.11.2021

Hadd szóljon!

István Somogyi

07.10.2021

Hajrá Bolgár, Para-Kovács, Gálvölgyi, Pa-Dö-Dö és a többiek!

Csilla Kövesdi

23.03.2021

Szuper!

Hans Dieter Lange

14.02.2021

a Klubrádió földi adásának lehetetlenítése - nekünk nemzeti gyásznap!

A legjobb magyar "beszélgetős" rádióadó nagy disznóság, hogy elhallgattatják az FM-en

A zenei összeállításokat át kellene venni a Trend FM-től.

Marianna Pásztor

22.09.2020

Nagyon jó és szeretem hallgatni !

Kedvencem a Szószátyár, de sok jó, gondolatébresztő műsor van. Sajnos nem tudom, hol lehetne az elmulasztott műsorokat visszahallgatni.
Information about the radio
A műsorstruktúránk az átlagnál magasabb hír, vélemény és információigénnyel rendelkező, 25 évesnél idősebb korosztály elvárásaihoz igazodik.
Radio contacts
Hallgatói telefonszámok: 2406-953, 2407-953, 30-3030-953
SmS szám: 30-3030-953
https://www.youtube.com/channel/UC6jNYMLmsMRMjRQ5o12nMiw