Stand with Ukraine. Save peace in the world!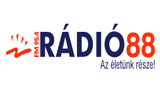 Radio 88 - Retro 88
A szegedi Rádió88 nem csak egy, hanem minden korosztálynak megfelelő adást kínál. Ez megmutatkozik mind műsori, mind zenei kínálatában, melyben javarészt hangzanak el pop és rockslágerek is. Több műsorral is rendelkezik a különböző zenei stílusokat kedvelők számára. Ilyen a Retro 88, mely online hallgatást biztosít azok számára akik változatos retro válogatást szeretnének hallgatni.
Radio 88 - Retro 88 reviews
Szinte egész nap szól ez az adó nálam. Nagyon tetszik, hogy nincs benne beszéd, hírek, stb. Viszont negyon zavaró, hogy ilyen kevés zeneszszámot játszanak. Naponta többször hallani ugyanazokat a dalokat! Egy -egy együttestől szinte mindig ugyan azt a dalt lehet hallani.
Radio contacts
SMS: (30) 299 8888
Fax: 62/443-075
https://www.instagram.com/radio88szeged/