Stand with Ukraine. Save peace in the world!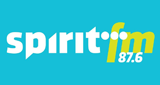 Spirit FM
Spirit FM 92.9 A nagyváros hangja! A Spirit FM a budapesti 92.9 - es frekvencián fogható rádióadó. A közéleti-politikai műsorok mellett szerepet kapnak a szórakoztató tartalmak is.
Spirit FM reviews
Önkényes mérvadó mindig, Élőben jófej mindig, Rocktérítő+ mindig, ostrom mindig, A bohóc karmai közt sokszor JÓ! Ezek amiket rendszeresen meghallgatok, de általában akit a közélet és a politika érdekel annak ez és a (klubrádió) kötelező. Tudom, tudom:tulajdonos blablabla...

Krisztian Harsanyi

01.12.2022

Nem valami nagy szám!!!!!!! Nagyon gyenge a radio minden téren!!!!!!!
Radio contacts
https://www.youtube.com/c/SpiritFMbp
https://www.instagram.com/spiritfmbp