Stand with Ukraine. Save peace in the world!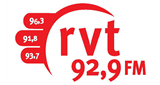 Radio Virovitica
Program Radija Virovitice i dalje je, kao i niz prethodnih godina, najslušaniji radijski program na području Virovitičko-podravske županije, a Radio Virovitica je danas među 60 najslušanijih radijskih postaja u Hrvatskoj.
Show more
Radio Virovitica reviews
Margita Rakijašić

23.03.2023

Super ste ali dajte nam malo "Vatre"

miroslav Gmajnić

21.12.2022

Super ste odlicni

Branko Jurić-Čivro

14.12.2022

Ne mogu vjerovati da naš lokalni radio, ne pušta u eter našeg Virovitičana Marina Jurića-Čivru, koji ima svojih autorskih pjesama, i suradnju sa poznatim mladim glazbenicima iz cijele Hrvatske. Također pjesme grupe Lunapark, u kojem sviraju naši dečki iz Virovitice. Svaka vam čast na promidžbi mladoj Virovitičkoj glazbenoj sceni. Nema zvjezdica, samo kaktusi. Sramota.

Josipa Ćurković Sekula

13.08.2022

odličan1

Dubravka Grbic

12.06.2022

jeste li vi uopće normalni? gradonačelnkov sin mladomisnik i vi misu puštate na radiju?

Damir Ćurković

03.06.2022

✌️👌👍

najslušanija stanica u vt županiji 10

Najbolji radio svakog dana ga slušam i naručuje pijesme od Željka Beka sve phvale

lp. molim Izdajnici i heroji

Muzika za nas starije u redu, ali puno ne lokalnih vijesti (vijesti i prognoza za cijelu RH predosadno sve slusati gdje predsjednica i predsjedik vlade ljetuju i piju kavu) lokalne vijesti u redu, zabavno nam slusati vase oglase ponekad pravi shou. Pozdrav.
Information about the radio
Lidersku poziciju Radija Virovitice, prije svega na svom koncesijskom području, potvrdilo je i nezavisno istraživanje agencije Defacto, prema kojemu je u drugom tromjesečju 2012. godine, program virovitičkog županijskog radija, na području Virovitičko-podravske županije zabilježio slušanost od visokih 51,98 posto s prosječnih 41.303 slušatelja! Rezultat je još bolji na razini grada Virovitice, gdje je Radio Virovitica najslušaniji radio s zabilježenom slušanošću od 65,02 posto uz prosječnih 12.550 slušatelja. Taj visoki rezultat slušanosti programa Radija Virovitice dobiva još i više na vrijednosti ako se zna da je ostvaren u uvjetima izloženosti ozbiljnoj konkurenciji koju predstavljaju radiopostaje s nacionalnom koncesijom, ali i preostale četiri lokalne radiopostaje koje program emitiraju na ovom području.
Radio contacts