Stand with Ukraine. Save peace in the world!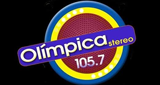 Olímpica Stereo Elche 105.7
Somos olímpica stereo elche ... emisora afiliada al grupo radial latino en España.. acompañandote 24/7
Olímpica Stereo Elche 105.7 reviews
Giraldo Giraldo Diego

23.07.2023

Gracias a todos y to@as en todo el mundo desde españa olimpica te pone de todo.... uniendo los latinos fuera de su colombia y pais natal..

Amanda Nebrijo

08.07.2020

un saludo para todos los de la emisora, desde pradera colombia

Luz Marina Cardona García

22.03.2020

bien 😜

Que estoy haciendo???? Escuchando Olimpica Stereo por su puesto!!! ))) Me encanta Radio Olimpica. Soy Holandes y vivo por suerte en el aredor de Elche y asi he discrubierto la mejor estacion de todos en mi coche. Ahora eschucho Olimipica stereo todo el dia. Me da mucho alegria y tambien puedo ensenar esta buena musica a mi hijo que es medio Colombiano. He recomendado tu estacion a todos mis amigos en Holanda para tener felicidad y sol en el , obscuro invierno que tienen alli. Muchisimo gracias a todos del Olimpica Stereo que me dan mucho carino y felicidad todo los dias. Un abrazo y saludos del Daya Vieja

kimberly astudillo sanchez

07.10.2019

me encanta ese locutor Andres... =)

LUZ MARINA RIOS

16.07.2019

Me encanta.musica variadita y Locutores amables

Leidy Gonzalez

24.11.2018

reportamos sintonia desde murcia

Robin A. Ochoa

18.11.2018

Bueno es una emisora que pone buena música, me gusta

Orlando Tibaduiza

24.09.2018

ola me gusta olímpica porque toca de todo. y se metió en el corazón de los latinos en españa

Hola Olimpica estereo Elche, saludos desde el poblado campestre vía a Candelaria-valle,soy Liliana García de la droguería Páez.