Stand with Ukraine. Save peace in the world!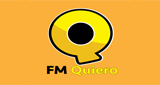 FM Quiero
Es estar junto a ustedes durante las 24 horas del dia! Conectados con la mejor música que quieres!
FM Quiero reviews
Silvana Astorga

23.03.2023

excelente radio, siempre la escucho ya sea en mi trabajo o en el auto. Quiero mandar un saludo a mi hija que mañana me volverá abuelita por segunda vez.

Nayaret Sepulveda

15.11.2022

Saludos desde serena nos encanta manu, solo un segundo 😉 ...porfavor toquenla ..saludossss

Marcial difundidos judíos Ortega

11.11.2022

Muy buena música Marcy

Marcela Dìaz Rojo

06.07.2022

Muy buenas tardes Katiza!!! Que gusto escucharte, felicidades!!!

hola buenas tardes a karen vega de alto hospicio la amoooo

Hermosa radio. Gracias por compartir el mensaje de aniversario de matrimonio con mi esposo.

Yeilyn Gonzalez Ruiz

13.05.2021

Yo con mi abuelita nos encanta escuchar musica en esta radio y ella me pidio q le solicitara cariño malo de palmenia pizarro

Saludos desde Argentina, San Martín de los Andes.

ya no tocan jesucristo superstar deberian deben de tocar

Orlando Aguilar

27.03.2021

En hrs. Buena muy buena emisora.. Nada k decir saludos para todos sus integrante de dicha emisora.. Saludos un muevo auditor de ustedes.. Orlando..
Radio contacts
https://www.youtube.com/channel/UCqTFI96vlbuMFWO25CUNwCQ
https://www.instagram.com/radiofmQuiero/