Stand with Ukraine. Save peace in the world!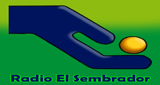 Radio El Sembrador
Esta radio transmite para el público chileno en el 104.7 FM y para otras naciones en internet, presentándose como un medio informativo que nos trae cada día los sucesos de última hora, así como entretenimiento y espacios variados para la comunidad católica.
Radio El Sembrador reviews
Gabriel Baeza Vallejos

22.07.2023

GRACIAS EL SEMBRADOR, EL MOMENTO MAS BONITO PARA NOSOTROS LOS HINCHAS RURALES QUE NOS HA DADO ÑUBLENSE Y UDS. LO HAN HECHO MUY VÍVIDO,MUY REAL, GRACIAS POR SER TRASPORTADORES DE ESTA ALEGRÍA HISTÓRICA.

Hola. Quiero Saludar a Radio El Sembrador de Chillán, que día a día nos mantiene informados. Un gran saludo también a todo el personal que hace posible la transmisión. Un gran abrazo de Manuel Guerra, cantante de la Nueva Ola de Chillán. Un abrazo

Jeanett Castro

20.03.2021

Quienes son los encargados de la mantención de Los Grifos?

Catherine Bravo

28.08.2020

Buenas tardes, quisiera saber la restricción para mañana sábado... en chillan por favor

Verónica Vásquez

24.04.2020

Hola, estamos super felices con radio El Sembrador. Desde Calgary Canada.

Muchas gracias por tan significativo homenaje a los profesores normalistas de Chillán. Estoy muy emocinada del talento, sabiduría y sacrifício que muchos profesores realizaban a diario trasladandose a los campos a aducar a familias campesinas. Un gran aporte a nuestro Chile querido. Que viva la Normal de Chillán y su promoción Sexto B

Roxana Soledad Salazar Valenzuela

12.03.2020

Hola mi inquietud es porque mis niños están dormidos y están respirando este olor , tengo que despertarlos o dejo que sigan durmiendo ?
Radio contacts
Estudios: (42) 2 213467