Stand with Ukraine. Save peace in the world!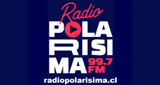 Polarísima FM
Punta Arenas, 107.7 MHz FM
Desde el extremo sur de Chile nos llega esta emisora que ofrece una amplia gama de música conocida por todos, rescatada de las décadas de los 80 y 90, para el disfrute del público nacional e internacional.
Polarísima FM reviews
Grmn Vlsqz Abd

13.03.2023

Hola, los saluda Germán, desde Pucallpa, Ucayali, Perú. Siempre tengo las ganas de conocer Punta Arenas, pero aún no he ido. Espero ir pronto y conocer amigas y amigos antes de ir. Muy buena emisora. Saludos y que sigan los éxitos.

Pedro Sandoval

21.09.2022

Hola, soy de Temuco hace años atrás estuve en Punta Arenas y necesito ubicar a korina Pérez Vásquez, ayuda por favor gracias.

Buen día, tremenda radio con el Lolo Saurio Mauricio Otey.. un abrazo

Cristian Vera Burgos

21.04.2022

Buenas tarde ..me acompaña en todo el dia laboral..un hombre nacido y criado en punta arenas ..

Excelente musica, un oasis dentro de las demas radios de época

maria hernandez

07.04.2021

Preguntale a la Amar porque le pagan la movilización aprox masxdec800 lucas para ir a votar y ella vota, a favor de que la locomoción no sea, gratis para, la gente el día, de las votaciones

Excelente radio, muy buena transmision y muy buena musica!!!!, saludos desde Santa Fe, Argentina, los escucho online, un especial saludo para una persona muy especial a quien quiero mucho de Punta Arenas.

J Jesus Rangel Martinez

24.08.2018

felicidades tienen muy buena programación excelente música un saludo desde matehuala san luis potosi mexico.