Stand with Ukraine. Save peace in the world!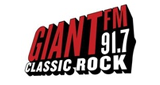 Giant FM
Niagara's Classic Rock 91.7 is a broadcast radio station from Niagara, ONT, providing Classic Rock and Oldies music.
Show more
Giant FM reviews
O.k cool

Where's KK gone?

91.7 is the best when i worked in Montreal i would listen to them all day

Kimberly Barkovich

12.08.2020

KK my husband and I loved you when we were in the big smoke. Moved way out to the west coast. So sorry to hear about your loss and your struggles. Good on you that you came through. Just found you two days ago. Absolutely loving the new station. We are doing a kitchen reno and your station is keeping us going. Awesome format!!!! Great music choices. Thanks so much for staying true to you. So nice to have a little bit of home.❣️❣️❣️

Penny Fawcett Venn

23.06.2020

Only station we listen to...

SUP-- GREAT

Great Station, I like it so much I set My receiver to Giant FM, then ripped my knob off, it's the only station I need...PEACE OUT UJz

Great classic rock but not enough new stuff KK love her straight up and old school

Barry Etherington

18.01.2019

Excellent Rock'in radio..only beef... the corny low budget ads.Don't like hearing some business owner trying to sell me with a bad amateur radio announcer voice...annoying..oh well ..picky picky...ps love KK and Floyd the Barber..oh i mean Pat Border...keep up the good work...Cheers

I do love this station
Information about the radio
CIXL-FM is a Canadian radio station, broadcasting in Welland, Ontario. It uses the on-air brand name Giant FM, and broadcasts a classic rock format at 91.7 on the FM dial. It is one of the few commercial FM radio stations on its frequency that can be heard in the United States, where frequencies between 88.1 and 91.9 MHz are set aside for noncommercial stations (a stipulation not required in Canada, CIXL's originating country).
Radio contacts
Soundcloud: www.soundcloud.com/user-244413257
Youtube: www.youtube.com/user/917GIANTFM?feature=mhee
Instagram: www.instagram.com/917GIANTFM/