Stand with Ukraine. Save peace in the world!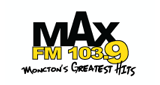 MAX
103.9 MAX FM - CFQM-FM is a broadcast radio station in Moncton, New Brunswick, Canada, providing Classic Rock, Pop and R&B music.
Show more
MAX reviews
Love Supertramp ! Grew up with them through high school. Beautiful music, lots of talent.

Lately this station spends more time being off the air then on????

Biased political views and opinions should not be on a music radio. Stay out of politics and play music.

Chantal Moreau-Short

08.02.2021

Totally dig the vibe of this retro station! Brings back some great memories <3

Virginia Lagace

04.12.2020

love this station

Its awesome til micheal jackson stuff

As a former radio announcer, I do listen to Max FM. However, at times I have to turn it off. Same songs over and over. There is plenty of good music out there so I don't see the reason for this.

Wallace Donovan

29.04.2019

I am new to the area, (Springhill) and have never heard such a good mix of amazing music. Thank you!!

best in town

Malcolm Squires

29.10.2018

I was playing the superstars but this morning it's say your server is down.i heard Bob seger but can't put it in ?
Information about the radio
CFQM-FM is a Canadian radio station broadcasting from Moncton, New Brunswick at 103.9 FM owned by the Maritime Broadcasting System. The station currently airs a classic hits format and is branded on-air as 103.9 MAX FM. Since 1977, the station has had numerous music formats such as easy listening, middle of the road, country and adult contemporary. From 1979 to 1998, it had a successful country music format.
Radio contacts
Fax: +1 506-858-1209