Stand with Ukraine. Save peace in the world!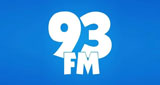 Rádio 93 FM
Rio de Janeiro, 93.3 MHz FM
Fundada em 1992 e localizada no Rio de Janeiro, a 93 FM é uma rádio que passa música cristã contemporânea, nomeadamente Gospel. Há mais de 20 anos no ar, seu papel é não só entreter, mas também ajudar, educar e conscientizar.
Rádio 93 FM reviews
beatriz Helena

27.08.2023

muito bom!

Graciete Miranda

22.07.2023

UMA DAS MELHORES RADIO GOSPEL

Correa Dantas Correa Dantas

20.06.2023

eu amo a 93,3, campo grande !

aqui tbm estamos ligados na rádio 93.3 , condominio tijuca park, maracanã!

Parabéns! debate muito sabio! OSIEL MELO JOINVILLE SC

Amo ouvir a melhor rádio evangélica do Brasil

Jonathas Anjos

29.12.2021

Rádio top louvores e pregação do pastor Valdir Brasil

Aguinaldo Ângelo Bento

15.12.2021

Gosto muito da rádio 93,3.

NEILA LAURENTINO

27.08.2021

Amo essa rádio da infância para vida toda... Deus abençoe todos vocês poderosamente. Feliz sexta.

a melhor radio, amooo desde da minha infãncia, passei a ouvir atrazes da minha mãe , arrumava a casa ouvindo vcs !!!!