Stand with Ukraine. Save peace in the world!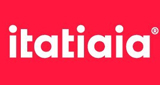 Rádio Itatiaia
A Rede Itatiaia, uma das redes de comunicação mais sólidas do país, é composta pela Rádio Itatiaia AM/FM - com transmissão simultânea em Belo Horizonte e região metropolitana - e mais cinco emissoras em Minas Gerais, localizadas em Juiz de Fora, Montes Claros, Ouro Preto, Varginha e Ipatinga.
Rádio Itatiaia reviews
Pedro Palhares

27.10.2022

RÁDIO COMUNISTA.. TÁ TUDO VENDIDO.

Emanuel Ferreira

27.10.2022

Perdeu sua credibilidade, ao falar mentiras contra o presidente Bolsonaro.

Veronica Tolentino

27.10.2022

Sou Verônica, com formação em Comunicação, tive oportunidade de conhecer vários jornalistas, comunicadores inclusive Eduardo Costa . Sou ouvinte até então esse momento onde deixo de ouvir inclusive a Ave Maria que sempre acompanhei durante muitos anos . Que decepção tenho eu em deparar com esse momento tragico da nossa história, assistindo jornalistas dos quais eu orgulhava em fazer parte . Diante desse quadro esquisito, imoral e devastador , eu não quero mais saber dessa emissora que fez parte dos meus dias .

Rodrigo Alberto

27.10.2022

Curtia muito a rádio, depois que começou a mentir muito sobre o governo atual e perseguir fiquei decepcionado. Não escuto mais e não indico para ninguém escutar.

nathalia castro silva

27.10.2022

Gostava dessa rádio.

Edilson Oliveira de Souza

14.06.2022

Simples assim: MARAVILHOSA.

João Lourenço Rosa

10.11.2021

Muito bom gosto muito houvir

Claudio Faustin

09.08.2021

Simplesmente a melhor

Fábio Junior Felício Mendes

11.04.2021

melhor de minas

José Luciano Pereira

11.04.2021

Dez. Excelente.
Radio contacts
Fax: (31) 2105-3613