Stand with Ukraine. Save peace in the world!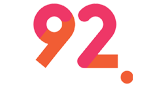 92 FM
Porto Alegre, 92.1 MHz FM
Cheio de energia e sempre com um sorriso no rosto, Adriano apresenta o Manhã Mais 92, programa que vai animar suas manhãs para que o seu dia comece ainda melhor!
92 FM reviews
A 92.1 é massa TD de bom pra vc gugu.. obrigado por fazer minhas manhãs mais alegres .. Christian Imbituba sc. Online na 92.1

Paulo Eliane Assunção Brites

12.05.2023

bom dia gugu paulo minha esposa eliane noimi manda um oi oi aqui na frontera quarai rs com uruguay nos estamos escontando voce gugu

bom dia gugu estou ouvindo a radio de lajeado rs manda uma musica da maiara e maraisa

Bom dia megaplasti São José do inhacora rs

Apoiar a Ucrânia significa "Paz no Mundo"? Vcs têm certeza disso?

Vinicius Vieira da silva

07.01.2022

Agora na radio 92. 1 FM o bicho vai pegar !!!! Energgiiiaaaaaaaaaaaa.. cartada certa da rádio presenteando nos Gaúchos com o talento e alegria que o Mc jean paul traz as nossas vidas desde tempos atrás em festas merece até mais do meu ponto de vista pelo que representa o nosso povo. Vai jean arrasa meu irmão a rádio 92 e parte da sua trajetória..

Hercule Poirot

06.01.2022

Saudades de Crociera!

Aline Dias Tavares

02.01.2022

Saudades das festas com O Jean no por do sol em Porto kkk

Gabriela Meireles

05.12.2021

Super... Com MC Jean Paul!!!!

Paulo Ricardo Henz

28.11.2021

Melhor rádio de Porto Alegre agora com melhor Mc do Brasil...