Stand with Ukraine. Save peace in the world!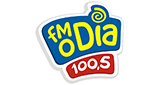 FM O Dia
A FM O DIA é líder absoluta entre todas as rádios cariocas. É a emissora FM mais ouvida no Rio de Janeiro. Disparado! A programação é a mais alegre e envolvente do dial, só com sucessos do pagode, do funk, do pop, do samba-funk, do sertanejo universitário, do hip hop, do axé music e muito mais!
Show more
FM O Dia reviews
SEXTOU COM FM O DIA SÓ ALEGRIA

escuto só música clássica do Fank FM O DIA músicas antigas e charme.

Marcel Zenobio

07.10.2022

top de linha

boa tarde o dia fica mais gostoso escutando fm o dia

Jacqueline Lemos

12.06.2022

Purintimidade de Nova Friburgo dando show! 👏👏👏👏👏👏

Vandernilson Da Silva Anacleto

05.06.2022

dango de resende rj lucucia

Schaiana Pessanha Silva

30.05.2022

a fm o dia acompanha meus dias, todos os dias desde a minha infância...

Estamos aqui no trampo em Campo Grande RJ... só curtindo a programação FM o Dia!... Um abraço a toda a rapaziada!... Sextouuuuu... Vamos tomar uma?...👊😁

Wellington Bernardes

12.05.2022

Somos de Niterói, mas estamos morando atualmente em Navegantes - Santa Catarina. Trabalhamos ouvindo a rádio todos os dias. UHUUUU!!

Flavia Fernández

03.05.2022

Olá!!! Sou Flávia. Estou escutando a rádio desde a Argentina!!!! estou trabalhando!!! Beijinhos para todo Brasil!
Information about the radio
A FM O Dia é muito mais que uma Rádio, é uma janela de alegria e diversão sempre pronta pra ser aberta e curtida, em qualquer momento do dia. Seja através de músicas, promoções, eventos ou simplesmente com uma locução pra te fazer companhia, a "Alegria que Irradia" é a certeza de sorrir e se afastar um pouco dos problemas do dia a dia.

Não à toa, a FM O Dia é líder de audiência no Rio de Janeiro faz bastante tempo. São anos no primeiro lugar, com muito orgulho e trabalho, sempre focados em entregar entretenimento. Com o DNA da ALEGRIA bem definido, a emissora extrapola suas 24 horas por dia no ar, levando aos ouvintes um estado de espírito positivo, que resume bem o povo carioca.

Desde a equipe de promoção nas ruas, até o locutor na ponta do microfone, todos os detalhes são planejados e desenvolvidos com carinho, tudo para os ouvintes da Nº1. Para a FM O Dia, muito melhor do que ser a Rádio do Rio de Janeiro, é ser a Rádio preferida do povo carioca. De verdade! Muito obrigado!
Radio contacts