Stand with Ukraine. Save peace in the world!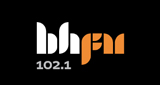 BH FM
Belo Horizonte, 102.1 MHz FM
Há mais de 40 anos no ar, a BH FM foi fundada em 1977 por Roberto Marinho. Pertence ao Grupo Globo e está localizada em Belo Horizonte, sendo uma das rádios mais importantes dessa área. Sua grelha inclui música, prêmios e informação.
BH FM reviews
Estou em Itabira curtindo BH FM show

Amo BH FM todos os dias tô ouvindo música, só musica boa

Kamily Ferreira

05.03.2021

como faço pra participar da promoção de 600 reais por dia???

vcs são os melhores

top mei dei

Beatriz Pereira

05.08.2020

gostooo muito da radio...

Reges ????????

26.07.2020

horrivel essa radio

BOM DEMAIS

Jhessy Domaredzki

22.04.2020

Muito bom

Eliezer Júnior

21.03.2020

Boa rádio BH FM Eu gostei s houw.