Stand with Ukraine. Save peace in the world!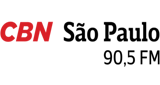 Radio CBN
O slogan que acompanha a CBN (Central Brasileira de Notícias) traduz à perfeição um conceito que, até 1º de outubro de 1991, quando foi criada a emissora, não existia no Brasil. O modelo all news da Rede CBN foi pioneiro e, atualmente, está presente nas principais cidades brasileiras, com quatro emissoras próprias e 30 afiliadas. Informação correta, isenta, com espaço para a pluralidade de opiniões e análise crítica do que está por trás dos fatos: este é o conceito do jornalismo praticado pela CBN. São cerca de 200 jornalistas, entre repórteres, produtores, editores, âncoras e comentaristas.
Related radio stations
Show more
Radio CBN reviews
Vai Corinthians e segue o Lider ligado na CBN Campo Grande MS

otima emissora.

Wanderley Pinheiro

09.07.2021

Muito Bom gostei Muito 👏👏👏👏

Quinteros Mariano

13.01.2021

Boa tarde eu escuta na radio da cidade do Paraná Entre Ríos Argentina saludos sou Mariano Quinteros 🖐✊

1991

Luiz Antonio Pinto DE Castro

09.01.2021

b\eb\edouro.

Corona vírus um matador sem causas.

Paulo Winkaler

28.12.2020

Esse imbecil que acabou de falar, quando o Lula ladrão era presidente e roubava ele não tinha vergonha, esse e um bosta mesmo. 000000

Urbano Luiz Caldas Nonato

03.12.2020

Muito bom

Airton Aguiar da Silva

10.11.2020

Adoro!!!