Stand with Ukraine. Save peace in the world!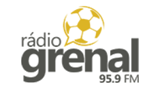 Radio Grenal
Porto Alegre, 95.9 MHz FM
A única rádio com futebol ao vivo 24 horas por dia.
Radio Grenal reviews
Adroaldo Orestes Canabarro Gois

07.10.2022

sem duvida a melhor...

Luiz alberto Alves bilhalva

03.04.2022

Muito boa!

Jandir Gonçalves Seibel

24.11.2021

Melhor do ramo sem dúvida

marco antonio alves

16.12.2020

Excelente transmissão, não deixa nada a desejar em comparação com as "OUTRAS"...

Roberto Lima Kratina

13.04.2020

Ronaldinho Gaucho está hospedado no Hotel PalmaRoga em Asunción, hotel de 4 estrelas sobra a famosa calle Palma. Os únicos que estao no hotel é o Ronaldinho, o seu irmao Roberto e seus dois advogados brasileiros. Aquí praticamente tudo parado pela quarentena imposta pelo governo.

Diego souza 92kg!!!kkkkk(Que piada )NOVO VALTER DA VIDA FUTEBOLÍSTICA..

Comparando com outras emissoras de Porto Alegre, como Bandeirantes, Guaiba e Gaucha tecnicamente a GRENAL deixa muito a desejar. É só comparar que fica evidente a falta de qualidade na transmissão Internet!
Radio contacts
SMS: (51) 991-137-758
Telefone: (51) 3218-2588
https://www.instagram.com/rdgrenal/