Stand with Ukraine. Save peace in the world!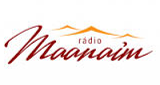 Rádio Maanaim
Rádio Maanaim de Vila Velha é uma web rádio com grande audiência em todo o Brasil. Ela pertence à Igreja Cristã Maranata. O repertório é de alta qualidade. Na programação, além de boa música, são transmitidos conselhos, estudos bíblicos, evangelização, louvor nacional e internacional.
Rádio Maanaim reviews
Sou de Socorro/SE e estou maravilhada com a programação❤️

Arisanger Cypriano Rodrigues

17.05.2023

APDSJ são as experiências com Deus que nos mantem de pé.

Juliana Aparecida Santana

12.05.2023

Apds ouça todos os dias a rádio.e uma grande benção, gosto muito.

Alberto Vieira

17.04.2023

Ótima qualidade

Agenildo Lopes

25.01.2023

Esta rádio é top das tops. Nota 1000.

Luciano Junior

09.01.2023

sou ouvinde todos os dias amo todas as proclamcoes

Jorge Alberto Fraga

28.12.2022

onde foi escrita a biblia se os judeus foram carregados para babilonia com a roupa do corpo?

Rosana Claudimara Papelaria Arco Íris

16.09.2022

Muito obrigada. agradeço a DEUS que tocou no coração de um membro da Igreja Maranata de Sete Lagoas para me falar da radio . Deus abençõe a vida desta irmã e de sua família.

humberto oliveira

16.08.2022

maravilha ouço todos os dias no serviço

Valdercy Paranhos

08.08.2022

Radio Maanaim, um presente do Senhor para o seu povo!!! Peço orações em favor da salvação dos meus familiares, que Deus abençõe.