Stand with Ukraine. Save peace in the world!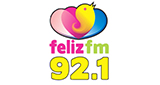 Feliz FM
A Feliz FM é uma emissora de rádio que tem seu principal enfoque nos ouvintes. Eles são convidados a participar da emissão, escolhendo as músicas que passam e entrando em promoções e passatempos, que oferecem prêmios banais ou a chance de realizar sonhos de vida.
Show more
Feliz FM reviews
Daniel S Garcia

16.08.2022

Feliz FM a Rádio mais FELIZ do seu Rádio

Arimateia Souza

29.06.2022

so bencao

Carlos Samsung

20.06.2022

Maravilhosa~sucesso-Verdade.

Ele quer ser eu de Henrique e Juliano , dedico essa música para alguém muito especial em minha vida

Radio abençoada amoooo os louvores e a pregação da palavra de Deus e os testemunhos amoo a FELIZ

Giulhiano Oliveira

25.02.2022

Aprendemos bastante, são muitas respostas, sem contar o excelente acervo musical, super recomendo, quer viver feliz, escute a feliz fim.

Qualidade não se explica, se ouve !!!!!!

Amo ouvir toda a programação da Feliz FM...principalmente as Ilustrações do reino de Deus e as pregações..mas há uns dias a rádio tem ficado muda ...sinto muita falta em escutar..me faz um bem enorme!

Paulo César Cunha do Amaral Cesar

09.11.2021

Uma bênção e está Radio ,gratidão, gratidão eu escolhi ser feliz FM.

Jonathan Santos

20.06.2021

Essa Rádio ė um pedaço do Céu aqui na terra!!!
Information about the radio
A Feliz FM Sat é uma rede de rádios que está próximo a muitos ouvintes em todo o Brasil, são 12 emissoras em 12 principais capitais e em mais de 300 municípios do país, além da presença através do site, do aplicativo "Feliz FM" para Android e IOS e também das redes sociais – Facebook, Instagram, Twitter, Youtube e Whatsapp.
Radio contacts