Stand with Ukraine. Save peace in the world!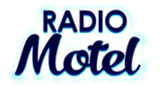 Radio Motel
As melhores musicas românticas do mundo.
Show more
Radio Motel reviews
nota 10

Agnaldo carvalho martins

21.09.2022

Ótima playlist.

A melhor radio em bom gosto e qualidade em musica .......

José Maria Soares do Carmo

25.01.2022

top 100, muito boa, estão com um repertório espetacular.

Lindas músicas para sonhar romanticamente parabéns para á radio motel 10

Denilson Oliveira Oliveira

11.10.2021

a numero 1.

Sebastião Arruda Pires

01.10.2021

Ja foi melhor

<3 bom demais

excelente radio

Jaime Custodio

22.06.2021

gostei muito, primeira vez que acesso, esta otima.
Information about the radio
A Rádio Motel é uma web rádio da empresa RADIO MOTEL LTDA, "estação de rádio na internet" classificada no setor de mídia de difusão transmitindo exclusivamente pela internet através de multi-formatos, com toda sua estrutura de áudio operando por AoIP (Audio over IP) e redes gigabit para a maioria dos players disponíveis do mercado com qualidade MP3 e AACPlus, com isso até mesmo com uma conexão de acesso discado ou 3G é possível ouvir com qualidade equivalente ao da banda larga.
Nossa especialidade é o entretenimento, música e divulgação em geral.
Estamos devidamente registrados como empresa na Receita Federal do Brasil desde 1987, com endereço físico e documentação legal para desempenho da atividade de estação de rádio.
Nossa programação é totalmente voltada a MUSICA INTERNACIONAL ROMÂNTICA e FLASH BACK das décadas de 70, 80, 90 e 2000. Só tocamos os maiores sucessos que foram consagrados no mundo pela crítica especializada e por ouvintes de musica deste segmento.
Radio contacts
https://www.instagram.com/radiomotel/