Stand with Ukraine. Save peace in the world!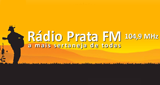 Rádio Prata
Águas da Prata, 104.9 MHz FM
Não estamos no mercado para competir apenas, mas para dar o melhor de nós, nos aperfeiçoando e adaptando ao que melhor se encaixa às necessidades de nossa região, de nossos ouvintes e clientes e onde quer que seja alcançado nosso sinal... "Fazemos rádio com AMOR, dedicação, seriedade e principalmente RESPEITO". Cabe a nós fazer o possível e o impossível para manter o carinho, o respeito e os elogios recebidos até hoje de todos que RECONHECEM a qualidade e seriedade de nossa emissora.
Rádio Prata reviews
nilton jose mantovani

15.04.2023

e ótima sou de Porto Ferreira Nilton

Shed Willian Evens 39 anos

04.04.2022

Eu quero escutar uma música do Austin Mahone ?

Ana Maria Santos

30.07.2021

Maravilhosa.. ouço aqui em governador Celso Ramos Santa Catarina

Olivia X Rinaldo

10.07.2021

Maravilhosa

Marcos Pereira

06.04.2021

radio sensacional

Hélio Aparecido Nunes

03.11.2020

Bom dia a todos desta rádio maravilhosa. Gosto muito da programação de vocês, principalmente quando é tocada a verdadeira música de raiz, "sem agrotóxico". Estou aqui em São Paulo, onde resido, mas sempre nas minhas férias passo na cidade de Mococa, na guardinha e quero aproveitar para dar o meu abraço a todas e todos os amigos de lá. Hélio "sapatilha".

Lazaro Aparecido Honorato Honorato

02.08.2020

uma emissora de radio que ainda leva em consideração o que o seu ouvinte gosta de ouvir preservado a cultura de uma gente,,, é assim que vejo a emissora.,, parabéns.

Daniele Yasmin

28.06.2020

Bom dia. Aqui é o Diguinho de Casa Branca e eu mando um grande abraço pro meu filho Pedro.

Rogerio Chiesa

17.06.2020

Sou ouvinte desta rádio desde criança, muito boa a melhor sertaneja que existe.

por favor, qual nome do poema que esta sendo declamado agora? das maes???? por favor
Radio contacts
pedidos musicais: (19) 3642-1068