Stand with Ukraine. Save peace in the world!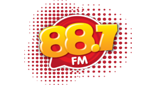 Radio 88.7 FM
Centrada na Região Metropolitana de Porto Alegre e nos Vales do Sinos, do Caí e do Paranhama, com uma programação de qualidade, ágil e participativa, a Rádio 88.7 FM cobre cerca de 136 municípios gaúchos onde vivem em torno de 3 milhões de pessoas. É uma referência Regional porque se posiciona como líder na preferência dos ouvintes, como atestam os dados do IBOPE a seguir e os troféus consecutivos do prêmio "Top of Mind" de 2004 a 2008.
Show more
Information about the radio
A 88.7 FM é uma rádio feita pelo público e para o público! Isso porque os ouvintes fazem parte da nossa história e colaboram com a programação todos os dias. Aqui é você quem decide o que vai tocar.

Localizada em Novo Hamburgo, a 88.7 FM é a rádio líder de audiência no Vale dos Sinos em diversos perfis. Chegamos a ter 243.155 ouvintes na Região Metropolitana de Porto Alegre, sendo que 72% deles são economicamente ativos. Mais do que uma fonte de informação e divertimento, a 88.7 FM faz parte da vida das pessoas, embala a rotina dos trabalhadores, da dona de casa, do estudante e de quem está se deslocando pela Região Metropolitana. Nos finais de semana, o tempo médio de sintonia dos ouvintes atinge 3h54min, o que comprova que, nos momentos de lazer, é na 88.7 FM que as famílias estão sintonizadas

A 88.7 FM é uma rádio feita para todos… Sintonize!
Radio contacts