Stand with Ukraine. Save peace in the world!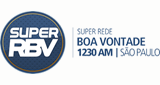 Super Rede Boa Vontade AM 1230
Gospel radio Super Rede Boa Vontade AM 1230, São Paulo. Toda a programação da Super RBV prima pela excelência no conteúdo.
Show more
Super Rede Boa Vontade AM 1230 reviews
É muito bom
Information about the radio
O ponto alto é a pregação ecumênica do radialista Paiva Netto do Evangelho-Apocalipse de Jesus, sempre em Espírito e Verdade à luz do Novo Mandamento do Educador Celeste, que propõe o entendimento do Livro Sagrado sem dogmas, sob a inspiração do Amor Divino pregado e vivenciado por Jesus (Evangelho segundo João, 13: 34 e 35).
O ouvinte acompanha também diariamente uma programação voltada para toda a família e um conteúdo que aborda temas de saúde, cultura e qualidade de vida com Espiritualidade ecumênica em programas para crianças, jovens, adultos e idosos.
Radio contacts
Av. Tenente Névio Baracho, 429 - Jd. Bela Vista São José dos Campos/SP - Brasil