Stand with Ukraine. Save peace in the world!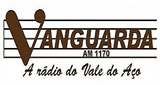 Rádio Vanguarda
Vanguarda AM 1170 - Primeiro lugar no ibope. A Vanguarda, é considerada através de pesquisa feita pelo Ibope, a emissora de maior audiência no Vale do Aço e está entre as principais do estado de Minas Gerais.
Rádio Vanguarda reviews
marcelo construcoes e reformas

08.11.2022

Mande um abraço pra todos os ipatinguenses aqui em Portugal bom dia Fred Marcelo de Portugal abraço a todos aí do meu vale do aço

Arruma um namorado aí pra mim Jota cachaceiro não quero não

Sioneia Torres

27.09.2021

Parabens pela á grande comunicaçao. sou de Santana do Paraiso., hoje estou em são Paulo, á 8 anos.

Francisco Ermelindo

06.07.2021

Eu morava em Minas Gerais agora eu mora no estado do Pará Cidade Parauapebas

Celso Araujo Inocencio

21.06.2021

Good

Maresía De Almeida

15.01.2021

show de radio boa tarde galera da vanguarda estou ouvinda a radio em boston ma.

Pompéia Gusmão

04.01.2021

Mamde um abraço para a gilmara bolos ars estruturas metalicas aqui

Stefani Silvano

16.04.2020

Top

Otimoo

Obrigada pelas felicitações. Forte abraço.
Radio contacts
https://www.instagram.com/radiovanguardavale/