Stand with Ukraine. Save peace in the world!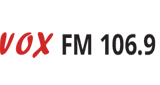 Vox FM
For over 25yrs Vox FM 106.9, The Voice of the Illawarra, has been broadcasting in the region. Vox has a loyal listenership across the Illawarra.
Show more
Vox FM reviews
The" Blarney "never sounded so good!!!

Kevin is a natural. Great song choices too :)

Killing it Kevin, :-)

Geoff Churcher

19.11.2022

Excellent selection of Music on 19th November presented in laid back and informative style!!

Loved the music on Saturday afternoon 10/09/22

PLEASE LISTEN TO MY 2 SINGLES - @ Crash Symphony Neutral Bay Sydney, Hopefully a couple of Albums coming your way . Hope you appreciate it

Narelle Pearson

07.06.2022

Loved last week's Tuesday 8pm-10pm program!! Very informative & entertaining! Well done guys!

Thursday morning my favourite show,I love the music there's no other program with such great songs.John Fox certainly knows the best songs to play.Dianne Kemp Maroubra.

Illkka's rhythm 'n blues program is the only time I get to enjoy the washing-up after dinner

Trish Fletcher

13.12.2021

Great to hear Les Mercer on again. he always plays great songs. we need to hear more of him. Miss his saturday evening program.
Information about the radio
Unlike most stations, Vox doesn't play the same thing 24 hours a day. They have different shows throughout the day appealing to different people. These include music programs playing hits from the 50's, 60's 70's and 80's as well as specialist music programs focusing Jazz, Blues, Folk, Australian Independent, Australian Metal, International Metal and Local Music.

Vox FM is a not-for-profit charitable institution and relies on government grants, donations, membership and sponsorship to remain on the air. If you would like to make a donation, please email us to find out how.
Radio contacts
Studio: (02) 4226 9393