Stand with Ukraine. Save peace in the world!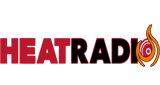 Heat Radio
We're blazing the hottest Hip Hop & RnB tracks from the 90's to today. With special guest mixes from the dopest club dj's from Australia and around the globe. Keep it locked to Heat Radio!
Show more
Information about the radio
Heat Radio is a product of those generations. We grew up in the 90's, listening to music that most would say has influenced a lot of our current music super heroes today. We had Biggie, Tupac, Snoop, Aaliyah, Mary J. Blige, Wu Tang Clan, the list goes on.

Over time, the music changed. Production styles became more intricate. Digital 808's and harmonic synths began to fill nightclubs built with the latest high tech sound systems. Artists began creating their own clothing lines, starring in movies, even having their own brands of vodka. Our urban culture has spread in to every corner of the globe, and we have been there every step of the way.

When you listen to Heat Radio you get music from the ground up. The classic 90's jams to the trending chart topping hits that you know you want to bump to. BUT, what is urban radio if you don't have a DJ in the mix. DJ's know the trends. They know what is hot and what is just plain dope. So we have enlisted some of the hottest DJ's from around the globe to serve up weekly mix-show's that keep us in tune with our ever-changing urban culture.
Radio contacts