Stand with Ukraine. Save peace in the world!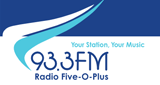 Radio Five-O-Plus
Radio Five-O-Plus is a popular radio center. It is Broadcasting from Gosford, Australia.
Show more
Radio Five-O-Plus reviews
just a great station

I am in Holland and love your music, back in Australia end of the year. Can you play Enja, please

Eileen Sellers

14.12.2022

I have been living overseas for some years and returned to Oz in August. Your music, interviews and commentary make me feel at home Loved the Slim Dusty interview. Can't believe you are run solely by volunteers. Wonderful!

maryanne young-meyers

08.05.2022

Great music you can enjoy all day…our family of 5 all love listening to the radio and our ages range from 24 years to 60 years old…so it's a great station for everyone…an absolute pleasure to turn the radio on with the announcers and music…fantastic…keep up the good work !

Love the Olden Days music as the kids would say

Wonderful.music from.my era..cheerful pleasant announcers...hope you continue to.thrive.

Wonderful.....simply wonderful music

Just relaxing easy to listen to music... Carol M

Maria McClement

12.07.2020

I have listened to 93.3 since it started , while i was at work , now that i have retired , i have three radios in my house and also on my car radios , i love the old music you present keep up the good music. WELL DONE .

Stuck in Sydney for four days. Am up to date with CC news. Luv it.
Information about the radio
From the vision of a couple of "radio buffs", and the establishment of our radio station by the five founding members, its first broadcast took place in March 1993. Since then, station has achieved considerable milestones, culminating in the move to our North Gosford premises in 2009 with a broadcasting licence current to 2017. Since 1999, we have broadcast 24/7.

In April 2012, Radio Five-O-Plus were required to relocate station's transmitter and antenna to a new adjacent radio tower and share a common antenna, in a joint venture, with two other local community stations.
All three community stations now broadcast at 2000 watts each in stereo, from a Vertical Antenna. Radio Five-O-Plus covers the whole Central Coast area from the Hawkesbury River to Lake Macquarie plus they have listeners in the Blue Mountains, Northern Beaches and Newcastle. With the advent of streaming, Radio Five-O-Plus now have listeners tuning in from regional areas, interstate and overseas.

PROGRAMM GUIDE
Sunday: Hourly from 8am until 6pm.
Monday - Friday: Half Hourly from 6am until 9am.
Monday - Friday: Hourly from 9am until 6pm.
Saturday: Hourly from 6am until 6pm.
Radio contacts
Postal Address: PO Box 2050, Gosford NSW 2250; Sponsorship: [email protected]