Stand with Ukraine. Save peace in the world!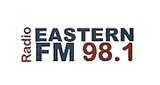 Eastern FM - 3ECB
Radio Eastern FM 98.1 is based in the outer-eastern suburbs of Melbourne, Victoria Australia with coverage across the municipalities of Knox, Maroondah, Whitehorse, Manningham and Yarra Ranges.
Show more
Eastern FM - 3ECB reviews
Rob Isles. Great show.

The Best.keep up the good work.

Listening to your radio station for the first time, recommended by John Mac Donald.

Babara Raggett

02.08.2020

Another brilliant show from David R

Your talent search program is such a great platform for up coming artists to showcase their talents and results of their hard work and passion for music 🎵
Information about the radio
Station's potential coverage is more than 400,000 people and its programming focuses on community information sharing mixed with easy listening music variety.

Radio Eastern FM 98.1FM is streamed via the Internet 24 hours a day, 7 days a week, this allows you to listen to your favourite programs from any internet-enabled computer or mobile device from anywhere in the world!

Given that many of Radio Eastern presenters have been collecting music for many years, music may be formatted from a variety of sources. LP records are still favoured by many but CD, MP3 discs and Mini discs may be used. Some presenters may also use their own portable computers as a music source.

Station's on-air studios are set up with facilities to put outside broadcasts to air as well as to conduct interviews via telephone. Telephone hook-ups are used by radio Eastern presenters including Brian Amos on Tuesday and Friday Afternoons. Other presenters have been known to have artists in the studios playing live to air.

Two of Radio Eastern on-air studios are large enough to accommodate several guests and this happens regularly in some shows such as the Café Classics, Around Noon and Crossroads programs on Thursdays.

Station serves the community of the Outer East in the following ways:

- They have established a close relationship with Maroondah Council.
- Each week they have a program that reviews local theatre productions.
- They are strongly committed to supporting new local artists. They often interview them and we play their recordings.
- They broadcast Eastern Football League games during the season and they canvass activities in many local sports in programs on Wednesday evenings and Saturday mornings.
- They broadcast local news twice daily six days a week.
Radio contacts