Stand with Ukraine. Save peace in the world!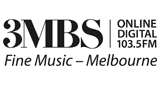 3MBS
3MBS is fine music community radio, passionately supporting Melbourne musicians and composers. The only locally-based classical music radio station in Victoria.
Show more
Information about the radio
3MBS was the first FM (frequency modulation) radio station in Victoria, Australia, and began transmitting to Melbourne and surrounding areas on 1 July 1975. Since then it has operated successfully as a non-profit community-based organisation broadcasting classical and jazz music. It is a part of the national Australian Fine Music Network.

The station aims to be the leading fine music broadcaster in Melbourne through creating quality programs that are diverse and interesting, and supporting our community of listeners, performers and composers.

From the early '90s, 3MBS took its charter to support local music seriously. In association with the Music Society of Victoria, the station developed the 3MBS Young Performers Award. In the year 2000, it developed a National Composer Award.

Apart from the broad spectrum of music presented, 3MBS has actively encouraged and supported the endeavours of local musicians, recording and later broadcasting their concerts and recitals. It also conducts a Musicians-in-Residence programme, a Daily Arts Diary and Accidental Arts programme.
Radio contacts