Stand with Ukraine. Save peace in the world!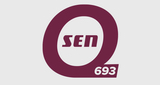 693 SENQ
SENQ will provides a unique offering and constant sporting content like never before.
693 SENQ reviews
Hi Tim

Hi Tim and Jane not forgetting Mat,picked up 2ch by mistake about 12 months ago best music on the radio by far, will miss you guys especially Tim's wit and dad jokes hope we can follow you some other way.

A fantastic mix of our memories. Thank you from Tom and Eileen in San Antonio, Texas.

James Rothchild

09.02.2022

Hi there. Expat living down here in San Diego. Enjoy listening to Tim Webster each day. Unfortunately Mr. Webster has a habit of cutting in before the actual song has finished. He just did it with Do The Hustle. There were a good 30 seconds left but he started talking over it. The songs are the reason we listen to 2CH Mr. Webster so please allow the song to finish. Many thanks. And speaking of The Hustle. Mr. Webster said he didn't know what Hustle was. Check out YouTube to see how you dance the Hustle. We were doing the dance in Sydney discos back in the 70s & it's still popular at weddings around the world - along with Tina Turner's Nutbush City Limits. Regards.

Thanks 2CH for the best disc jockey in Australia in Tim Webster his music knowledge is next to none and so much common sense with his thoughts on the days current affairs FABOULOUS i listen on my Alexa my car radio and phone never miss his morning show Keep up the great Music

Been listening to your station for well over 12 years, all the way from CANADA. You guys rules. We lost our beautiful station dating back in the early 60s. They played only classic rocks like your station

Michael Bloomfield

24.11.2021

The music is very good at 2CH, however I must admit the news service and traffic reports are woeful, you almost need an interpreter to translate what has been said.... SLOW DOWN.

Never listen to any other station. ( but I must admit, 2GB is my favored news service. Sorry, but the news on 2CH is a shocker!)

I love the music on 2CH and the new format ..I wish I could still listen on my car radio though ..I hate racing and the changes made to the AM band ..please bring misic back and I'll be even more a fan when I can listen again in my car ..send racing and sport somewhere else ..🙏 😊

MartyTheAussie

05.07.2021

I'm a boomer, and IMO Tim Webster is your greatest asset. Lately 2CH has been playing KC and the Sunshine Band: "That's the way I like it". I can't fathom why your programmer (who is probably 30 something) selects the most REPETITIVE song in the world. It does my head in. I bet Tim also can't stand that song.