Stand with Ukraine. Save peace in the world!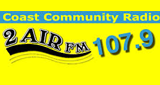 2AIR
Coffs Harbour, 107.9 MHz FM
2AIR FM is a community radio station broadcasting to the Coffs Coast of NSW Australia. Our music style is easy listening and this is reflected in the many styles of music broadcast: from country to rock to folk to jazz to big-band and world music. All presenters are volunteers who are passionate in their love of the music they present. The station is on-air 24 hours a day.
2AIR reviews
Isn't Paul Johnson on CHYFM?

I'm from Nevada USA and I used to listen to 45RPM with Paul Johnson doing a program once a week and I'm very upset at the fact that he's no longer in that time slot anymore and it's quite upsetting . He had a big group of listeners from the USA and the UK along with so many more people from other countries. From what I understand that he was unfairly "Laid Off" and it's been causing him and his partner a lot of stress and Paul loves his music and he took pride in what he was going all on his own time. Shame on you people for doing this to him and his family, We will not continue listening to your station anymore unless he's back on Air and has been given an apology in his first programming back. I'm sure you have my email address as I am not going to post it for public use..
Radio contacts
Fax: (02) 6652 8881
P.O. Box 2028 Coffs Harbour NSW 2450