Stand with Ukraine. Save peace in the world!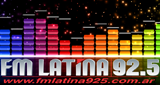 FM Latina 92.5 FM
El tema principal y la pasión de todo el equipo que forma esta emisora online es, sin duda, la música. Aquí podemos encontrar a DJs con sesiones propias, espacios dedicados a géneros diversos y promoción de eventos locales de artistas de todo tipo.
Show more
FM Latina 92.5 FM reviews
EXELENTE COMPANIA!!

Emi jonas Suarez

09.10.2021

Me gustaría saber cómo se llama el enganchado de hace un rato de cumbia ...no logré escuchar solo escuché que es volumen 4 !! Muy buena radio! A full en casa

Chechu Gimenez

14.08.2020

Buenas potente radio quisiera que vean mi primer videoclip de mi tema Tropical de Jota Mc que está en Youtube soy de San Juan gracias

Luciano Luciano

25.01.2020

Muy buena música FM Latina, Un salteño viviendo en el extranjero. Saludos.

Muy buena musica lo mejor de los sabados por la tarde

Federico Arenas

13.07.2019

Hola amigo full la radio te sintonizamos en bermejo Bolivia frontera aguas blanca te escuchamos vía web....pone el tema de rebota....👍👍

Marcelo Haefeli

29.12.2018

Buenisimaaa programación !!!
Information about the radio
FM Latina 92.5 en vivo desde Argentina. FM Latina 92.5 transmisión diferente especie de pop más reciente, roca, clásico, hablar, sociedad, movimiento, electrónico y así sucesivamente FM Latina 92.5 derramar música y proyectos tanto en en la web. FM Latina 92.5 es 24 hora 7 día en vivo de radio en línea.
Radio contacts