Stand with Ukraine. Save peace in the world!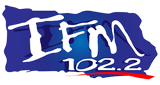 IFM
Vanderbijlpark, 102.2 MHz FM
Info. Fun. Music. The Vaal Triangle's preferred choice!
IFM reviews
Awesome Team to work with - what a lovely spirit - keep up the good work

Marthie Posthumus

01.06.2023

Wat is die naam van die liedjie wat net voor 12 uur vanmiddag gespeel het. Sommige woorde was: ek wens ek kan jou weer soen of het jy aanbeweeg

Casper Kadoefie

07.09.2022

Kindly forward me the voice clip of yesterday between 12pm and 12:30 of the guy who talked about kids and drugs in IFM Radio please

Stephen Deacon

02.12.2021

Marius tops groete daar aan julle Vaalies.Werk laat en geniet jou program.Upington country groete.

All the way from Ireland. Great radio station. Stream first thing in the morning and all day at work. Good job IFM. Enjoy being up to date with the local news.

Good music, good show from Marius, listening in the Algarve-Portugal.

Ons was gistraand by Kompas dit was regtig amazing

Stefan Schoeman

22.03.2021

Lekker Musie Om Marius Love Country En boermusiek

Micheal Harvey

09.11.2020

MICHAEL HARVEY EK HOU BAIE VAN JENNIFER ZAMUDIO SE NUWE ENKELSNIT "DALK" WOW IS FANTASTIES ASEMROWEND.JENNIFER SE STEM IS FINOMINAAL ONGELOOFLIK RAAK BAIE HARTE EN SY SING ONGELOOFLIK MOOIER AS MOOI EN DIE BESTE.DANKIE VIR DIE BESTE MUSIEK EN LIEDJIE WAARDEER DIT OPREG.N MOOI AGTER MIDDAG.GOD SEEN OOR JUL.

Japie Claasens

15.10.2020

Elke oggend, middag en aand was my moeder se radio aan en ingestel op IFM 102.2, en nou waardeer en onthou ek elke oomblik ingestel hier in Beijing China! Hou dit hoog!