Stand with Ukraine. Save peace in the world!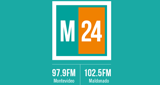 M24
La FM con identidad uruguaya. Noticias, entrevistas y la mejor música de Uruguay para el mundo...M24 - 97.9 FM Montevideo y 102.5 FM Maldonado.
M24 reviews
Santos Hernandez

22.09.2022

quiero tener el conocimiento de com0 ver la imagen de los programas en vivo.

Roxana Texo Medina

27.04.2021

Gracias por dejarnos escuchar opiniones que los grandes medios no divulgan. Increíble Castaindebat en su discurso aporofobico que no ha sido puesto en discusión pública. Muy pocas personas saben lo que está haciendo y expresando

CarlosJulio Borges

27.03.2021

Cuándo podremos compartir por TELEGRAM?

Edgardo Bonfils

26.03.2021

muy bueno sofia elena y edgardo desde rosario argentina

Juan Carlos Bonilla Taylor

22.07.2020

No se como se hace la FM 102'5 que es su repetidora está casi todos los días tapada por la fm gente, que no es de.mi agrado

Excelente, gracias a todos

Juana Baez Rodríguez

22.05.2020

Muy buena informacion como siempre gracias🇺🇾🇩🇰🌻

Clara Vitureira Tagle

20.04.2020

Muy claros e intelegentes ! Clara de La Paz Canelones. Estoy La Minga. 4699 la ci Aguanten !