Stand with Ukraine. Save peace in the world!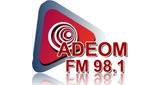 Adeom FM
Emisora Comunitaria perteneciente a la Asociación de Empleados y Obreros Municipales de Florida. Autorizada por la URSEC Transmite en la Frecuencia 98.1 FM y nuestra característica es CXC251.
Adeom FM reviews
Francisco te escucho desde California. Brillante como siempre. Saludos a tu familia

hola pasame un tema de mirian britos xra michel Rodrigues q se pone celoso xq n lo saludo a el d karen

Angela Villamil

30.10.2018

Arriba cuñado!! te escuchamos desde piria a full jajaja te queremos muchos besos

Mauricio Fierro Rodriguez

25.08.2017

GRACIAS POR PASAR EL TEMA. SE PODRIA OTRO TEMA, DE LOS ABUELOS DE LA NADA GRACIAS TOTALEEEEEEEES!!!!!!!

Mariela Rodriguez

29.06.2017

Me encanta el programa.