Stand with Ukraine. Save peace in the world!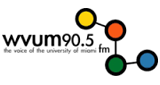 WVUM 90.5 FM
WVUM is the noncommercial and fully student-run radio station broadcasting out of the University of Miami. Since its inception in 1967, as a pirate radio station hidden in the Mahoney dormitory, The "Voice" has evolved into a nationally recognized leader in college radio, broadcasting eclectic and singular music programming (with a slight electronic bent), public affairs/news content and excellent sports programs (reflective of the U's athletic programs).
WVUM 90.5 FM reviews
Eliot mr.coolguy

11.11.2022

I really love this radio station, they play a very broad amount of music genres and rarely the popular stuff. I love this radio station because I can turn it on and not recognize hardly any of the music that comes on. I feel like a lot of radio stations seem to cycle through 40 famous songs and that's it. You hardly ever hear the same song twice with this station. Another thing I love about this station is that they actually play some metal and black metal. I don't think I've ever come across any other station in my area playing that kind of thing and I love it so much. Cheers, keep up the good work.

Guys, DE is known as the 1st State, The Diamond State...great beaches (Rehoboth, Lewes, and Dewey, also 1st to ratify the Constitution, to name a few...

gunnar thompson

30.06.2021

about all i listen to now... seriously the best mix i've ever heard on any station anywhere.. constant drive-fast dance-hard JAMS GLITCH WEDNESDAY 3-4pm OMGGGGG!!! LOVEEE!

Enjoyed immensely the Rosenberg jazz trio.

Elena del Moral

14.09.2019

All Day Long WVUM!!!