Stand with Ukraine. Save peace in the world!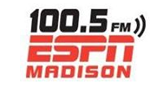 100.5 ESPN Madison
ESPN 100.5 FM Madison - WTLX is a broadcast radio station in Monona, Wisconsin, United States, providing Sports News, Talk and Live coverage of sports events to the Madison, Wisconsin area.
100.5 ESPN Madison reviews
8 run comeback win on that baseball playoff game. Hope that post-game show was a good one.

Wilde and Tausch rock

Nothing. Cannot delete review, entered in error.

Joe Laufenberg

02.03.2020

Wilde and Tausch are the best!

Sucks..it won't play

Interesting stuff!
Radio contacts
Fax: 608.245.1720