Stand with Ukraine. Save peace in the world!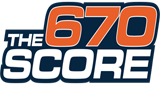 670 The Score
Chicago's Sports Radio 670 The Score (WSCR-AM) has been the voice of the Chicago Sports Fan for over 16 years and also streams worldwide online. The station is owned by CBS Radio and transmits on 670 kHz on the AM dial. Its transmitter is located in Bloomingdale, Ill. It's known as "The Score," and has been on the air since 1992. 670 The Score is Chicago Sports talk with local personality and flavor. WSCR is also the home for the Chicago White Sox, Chicago Blackhawks, Chicago Rush, The Bank of America Chicago Marathon, DePaul Basketball, and Northern Illinois University Football and Basketball.
670 The Score reviews
I heard the great news about the new line up next week for your shows. What I heard was " one hour less of Dan Bernstein", To that, I say "Hip Hip Hooray!" the good news: One hour less of hearing that pompous jerk trying to funny and failing . Bad news: There still some time this loser is on the air each day. That sucks. :)

Love the score all the Info,opinions.the hosts,ads,all insight, interviews,up dates.
Radio contacts
Studio phone: (312) 644-6767