Stand with Ukraine. Save peace in the world!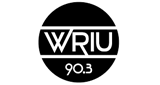 WRIU 90.3 FM
WRIU 90.3 FM is URI's non-commercial radio station. Staffed by students and community members, it offers an extremely diverse array of programming, 24/7/365.
WRIU 90.3 FM reviews
Christina Davis

28.10.2023

Love 💕 it

Ana Mejia Alvarez

26.10.2023

Love the jams!!

Gaurav Bahroos

21.09.2023

my favorite is 10pmturnupppp 🍠🍠

Michael Andrade

07.10.2022

My Favorite is Sam's Jam on Friday Mornings at 10:30 AM

This is awesome. You two are Great. Love the music.

The monsignor rocks, thanks for sharing your time and talent with us, John. Squeeze in Charles Earland's More Today Than Yesterday if possible.

Paulette Tanguay

20.01.2022

I love listening to Taylor! She has a great voice and good choice of music.

Jacob Grossman

15.01.2022

James Morgan plays the best music!!!

Macnie and FFF simply the best!

Mackenzie is such a good DJ!!!!! My favorite!!!!
Radio contacts
Phone: 1-888-303-9748
Text: 740-401-9748