Stand with Ukraine. Save peace in the world!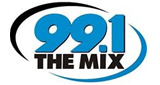 99.1 The Mix
99.1 The Mix FM (WMYX-FM) - is a Hot Adult Contemporary radio station in Milwaukee, Wisconsin. Home of Wes & Elizabeth in the morning and Milwaukee's Best Mix of music all day.
99.1 The Mix reviews
Aubree Jankowski

17.06.2023

I love listening to 99.1!! I was just wondering if you could play danger zone a little more often! I know you may not see this but I haven't really heard it in a while and have really wanted to hear it again!! Love the songs tho!!

You guys need new songs in your rotation. Couple hours listening to this in the office and we have to shut it off.

I Love the mix, have been listening for years and will keep on.

I love The Mix and Kelly Clarkson is pretty okay, but she absolutely BUTCHERED Give Me One Reason 😭 Please play the original next time! I couldn't sing along to this at all.

Can you add Halsey's Bad at Love to your play list?

Tatiana Villalon

17.03.2018

La mejor estacion de musica de milwuakee .
Radio contacts
Office: 414-529-1250
Fax: 414-529-2122