Stand with Ukraine. Save peace in the world!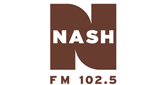 Nash FM 102.5
Nash FM 102.5 (WMDH-FM) - is a radio station licensed to New Castle, Indiana, and serves the Muncie-Marion, Indiana, radio market with a Country music format. №1 for Hit Country!
Nash FM 102.5 reviews
this is great!

Love listing

you guys are the best radio station.

I Am listening live from Dar es salaam city In Tanzania (East Africa).Nash FM, my source of favorite Country Music. Keep up the good work.
Radio contacts
Phone: 765-529-2600
Fax: 765-529-1688