Stand with Ukraine. Save peace in the world!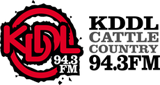 Cattle Country 94.3 FM
KDDL 94.3 FM is the Classic County radio station part of Arizona's Hometown Radio Group Serving Prescott, Chino Valley, Prescott Valley, Paulden, Skull Valley, Peeples Valley, Yarnell and all of Northern Arizona. We are the areas ONLY Hometown Country Music Radio Station playing your favorite country music of the 50′s to the 90′s.
Cattle Country 94.3 FM reviews
Gigi Stecchino

08.12.2021

I like this song, but....who's singing?? Hint: a Playlist would be useful. Txs.

R Nick Raygoza

05.12.2021

beautiful the radio, nunca la habia escuchado y hoy la escuche y quede fascinado hermosa musica de calidad, saludos cordiales desde Guadalajaraja Mexico.

true oldies Radio Just Love it

To much compression if you listen in Sweden. anyway happy new year to you us people and keep holding your wings over us.

Derrick Cologna

05.11.2020

Keep Playing the oldies! love them!!!!

Luigi Facchini

03.11.2020

Sarebbe bello avere la playlist delle canzoni!

𝓥𝓮𝓻𝔂 𝓷𝓲𝓬𝓮 𝓶𝓾𝓼𝓲𝓬 , 𝓰𝓻𝓮𝓮𝓽𝓲𝓷𝓰𝓼 𝓯𝓻𝓸𝓶 𝓖𝓪𝓵𝓪𝔁𝓲𝓭𝓲, 𝓖𝓡𝓔𝓔𝓒𝓔. (っ◔◡◔)っ ♥

Great station. Reminds me of driving with my Grandpa in his old Chevy truck.

PATRICIA BROUSSARD

27.05.2019

The best country music of the 50's to the 90's.!!!!!!

they tend to play the same oldies over and over in the same day!!. How many times a day can you listen to Chugalug Chugalug?